How Could Laser Industry Benefit from the New Infrastructure in the Post-pandemic Era
During the pandemic, the Ministry of Industry and Information Technology held a special meeting to accelerate 5G development in March with an aim of boosting economic growth where a new type of infrastructure was proposed to be expedited (abbreviated as new infrastructure). What is currently relevant to the new infrastructure and new services includes some promising and demands emerging at a fast speed. In the short run, developing new infrastructure and new services could concretely contribute to economic growth, conductive to coordinating pandemic prevention and control against social and economic development for the sake of a minimized impact induced by Covid-19. Nevertheless, new infrastructure and emerging services if developed quite well would consolidate the foundation for national economic progress in the long run.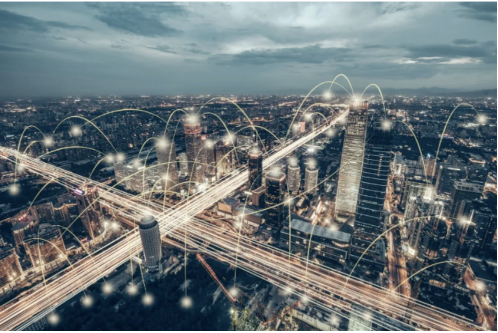 Source: VEER
New Infrastructure, different from industrial foundations, is marked by features of the IT era. It refers to infrastructure construction on the technological spectrum, chiefly including 7 areas of 5G infrastructure, UHV, intercity high-speed railway, AI, big data center, new energy charging and the Industrial Internet. It touches upon multiple key sectors relevant to social development and people's livelihood, such as communications, power and transportation.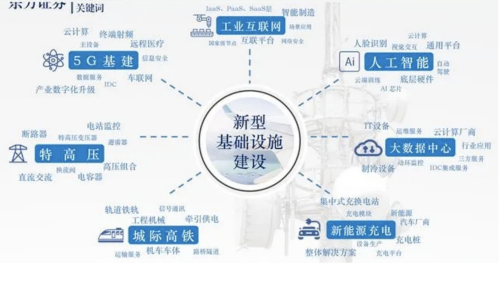 Source: Orient Securities
How should laser industry respond to new infrastructure and seize opportunities against the background of relaxing pandemic prevention and controlling measures in the spirit of keeping off imported cases and holding back resurgent domestic disease to promote orderly resumption of work and production and capacity recovery? This paper starts from 7 sub-sectors for the new infrastructure and takes stocks of chances brought by new infrastructure to laser and optoelectronic companies.
Intercity Railway System
BOC International indicated that by the end of 2019, 40 cities across China had provided intercity railway service with a cumulative mileage reaching 6,730.27 kilometers. Investment into infrastructure construction for the intercity railway projects as an effective tool to stabilize the economy could be further bet on against all odds of downward pressure on the macro-economy. Incremental financing originating from special bonds issued by local governments and PPP projects has boosted investment into infrastructure construction for the intercity railway system, contributing continuously to more mileages. Statistics from the Ministry of Finance predicts a breakthrough in traffic mileage exceeding 1,000 kilometers in the whole year of 2020.
Due to progress of intercity railway system and rail traffic, together with input in materials, there will be a huge demand for metal plates as basic materials. Highly efficient laser processing technologies such as laser cutting and welding necessitate the production of high-quality metal plates. Expectations are quite high for companies engaged in laser light source such as Raycu Laser, MAX Photonics and JPT Opto-electronics, and businesses in high-power laser equipment, for example Han's Laser, HGTECH, Penta Laser, HSG Laser, Bodor Laser and Hymson Laser.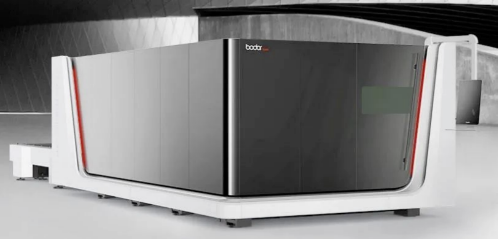 Bodor S-series 30000w Fiber Optic Laser Cutter
Source: Bodor Laser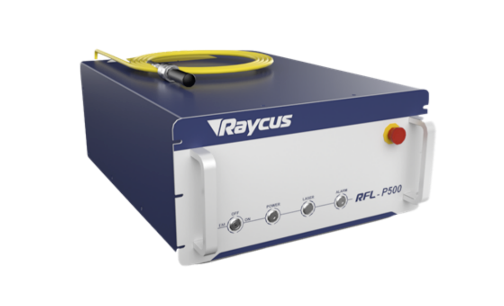 Raycus Pulsed Fiber Laser of High Power
Source: Raycus Laser
Besides, laser cleaning is an efficient tool for the maintenance of railway tracks. Important supporting facilities for laser machines including water chillers (such as chillers provided by Guangzhou Teyu Electromechanical Co., Ltd. etc.) will usher in further development in this round of new infrastructure construction.
Charging Pile and New Energy Battery
Figures released by the China Electric Vehicle Charging Technology and Industry Alliance (CCTIA) show that China has put into place 531,000 public charging piles and 712,000 private ones at a vehicle-pile ratio of 3.5:1 by the end of January 2020, lower than the target of 1:1 set in Guidance for the Development of Electric Vehicle Charging Infrastructure (2015-2020) by a large margin. If the Industrial Development Plan for New Energy Vehicles (2021-2035, Draft for Public Opinions) is to be achieved accordingly, sales of NEVs would take 25% of total automotive sales by 2025 with NEV sales estimated conservatively at around 7 million. If we take the NEV inventory of 20 million and calculate at the vehicle-pile ratio of 1:1, approximately 18.8 million charging piles are needed.
The growth of NEV implies a huge market for manufacturing power batteries that fuel NEVs. As welding is one of the key links in manufacturing lithium battery cells and battery PACK, the welding approach and process matter in terms of cost, quality, safety and coherence of batteries. Apart from conventional welding technologies, advantageous laser welding is very suitable for power batteries.
Laser welding has been in the limelight as a subdivision for plenty of optimistic laser equipment businesses led by but not limited to United Winners and Yifi Laser.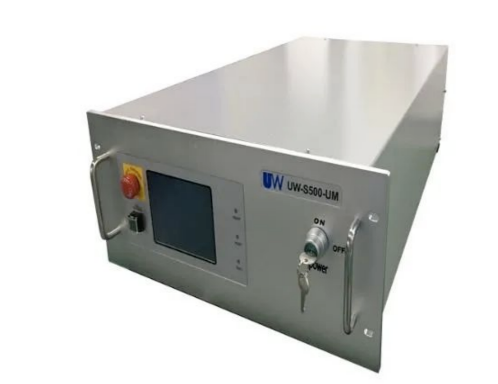 UW Fiber Laser Welding Machine
Source: United Winners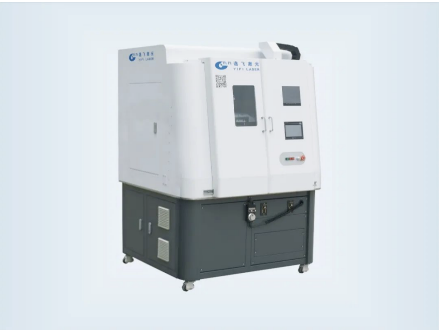 Yifi EFE-AWS-1080F Laser Welding Station
Source: Yifi Laser
5G Construction
The market currently is concerned with substantial negative impact on the progress of 5G construction in 2020 as bidding process is delayed and delivery cycle elongated by the Covid-19. However, top-level deployment in the communication industry has greatly accelerated resumption of work and production for Chinese 5G industrial chain and enhanced coordination between industrial chains. From the angle of operators, China Unicom and China Telecom have strived to complete the task of erecting 100,000 base stations covering 47 prefecture-level cities in the first half of this year and together they are predicted to put into place 250,000 stations in the first 3 quarters. On February 29th, the China Mobile declared the target of 300,000 5G base stations in 2020 not to be curtailed and that 5G network would spread across prefecture-level cities all over China in 2020. Targets for Three Operators by now have been fixed at 550,000 base stations in 2020 but the actual progress stands a great chance of exceeding expectations.
In the industrial chain of 5G infrastructure construction ranging from upstream of base stations (radio frequency and antennas), midstream network (network planning & design, optimization and maintenance) and downstream terminal facilities and application scenarios, wireless primary devices and transmission equipment including fiber optic cables, optical modules and optical communication equipment are directly relevant to the industry of optical communication. Equipment suppliers include ZTE and FiberHome; businesses of optical modules are represented by HG Genuine (affiliated to HGTECH); YOFC and HTGD are vendors of fiber optic cables.
The dawn of 5G era has triggered requirements for processing FPC materials, accompanied by commercial opportunities for the application of ultra-fast lasers. Upgrading in terminal consumer products have driven the demand for laser micro-processing, removal process and interface equipment. Presently, laser businesses of precision work like Han's Laser, HGTECH, Strong Laser, DelphiLaser and Hymson Laser are hastening layout and deployment in this industry.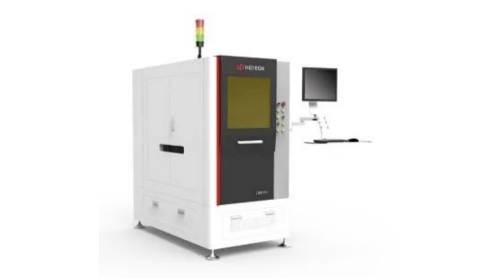 FPC Laser Cutter of HGTECH
Source: HGTECH
Artificial Intelligence (AI)
New Time Securities indicated an increasing demand of AI in technical and commercial application scenarios coupled with an expanding industrial scale. In July 2017, the State Council released the Development Planning for a New Generation of Artificial Intelligence in which a three-step road-map was fixed for AI development as a national strategy. AI has been applied in many areas including smart security and protection, medical service, finance and education in China. Vision Industrial Research Institute forecasts a growth of 45% in Chinese AI market, far above global average.
AI comes down to hardware and general application. With regard to laser lidar, technologies developed gradually from laser ranging, laser velocimeter, laser scanning and imaging to Doppler laser imagining. Where AI develops, so follow laser chips represented by Everbright and Raybow Laser that are rolling out their presence.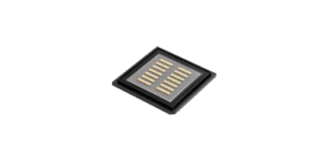 Everbright Laser Chip of High Power
Source: Everbright
UHV
The Notice on Accelerating the Planning and Construction of Key Power Transmission and Transformation Projects released by the National Energy Administration in September 2018 planned a total of 12 UHV projects. 7 newly approved UHV lines this year are expected to expand the market by about 150 billion RMB if it is calculated with an investment of 20 billion yuan into each UHV line.
Since heavy load and extremely draconian requirements for the stability of base and structure in UHV transmission towers have pushed processing precision, accuracy and quality to an exceedingly high level, high-power laser cutters boasting advantages of excellent precision, high quality and super efficiency would be introduced into the construction of UHV transmission towers.
Big Data Center & Industrial Internet
With an increasing number of industries replying on data resources for development, building up more data centers would be conductive to industrial transformation and inter-connectivity. The construction of data centers especially their internal connections and linkage between data centers could not be delivered if not for technologies and products of fiber communication, including fiber optical cables, optical modules and chips.
Conclusion
Indicating where the new industrial revolution would evolve into the future, new infrastructure serves as an important approach to stabilize the orderly economic growth and a chance to rise up to challenges by promoting industrial transformation and upgrading against the background of downward pressure caused by Covid-19 on the economy. Huge opportunities are abundant for all kinds of industries and sectors with a great many businesses benefiting from the new infrastructure. And so is the laser industry, one of the most attractive and fastest growing industries in all countries in the world.
The content above is compiled and edited with resources from People's Daily, People.com, Xinhua News, QQ.com, MFC China, Xueqiu.com, OFweek Laser, Bodor Laser, Quanshang China, Sina Finance, ACT Laser, OESHOW, etc. Please contact the author for deletion in case of infringement.