Laser Engraving: Promising Prospect of Application
Engraving is an ancient art. Since ancient times, engraving in various carriers including tooth, jade, wood, stone, mud, dough, bamboo, bone and inkstone, has become a valuable artistic heritage in Chinese arts and crafts. Tools of engraving vary from knives, chisels and round chisels, to awls (shaped in cone), flat axes and hammers. It is fair to say that this should have been an area totally irrelevant to laser.
But these two seemingly irrelevant domains began to overlap thanks to the wider application of laser technology, electronic technology and computer-aided design in the 21 century when an integrated Laser Engraving Technology came into form in which laser has been serving as an engraving tool. This has enlarged the scope of carriers for engraving technique into glass, steel and plastics, etc.
There are two kinds of laser engraving, internal engraving and surface engraving. In contrast to surface engraving, internal engraving is more difficult but produces better artistic effect. It creates spatial artistic images that are visible and tangible inside plastic materials or engravable hard materials to reflect social life or express wishes.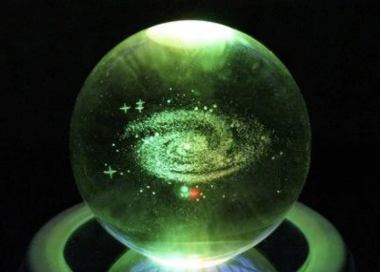 General engraving technique often carves out required shapes on the surface of material. However, laser internal engraving creates internal patterns by applying a special laser carving machine whose laser beam pierces into crystal objects like glass, crystal or acrylics from different angles via expanders, field lens or other optical accessories to focus exactly on one point. Energy is transformed from light into heat, triggering mini-explosion. These dots combined together produce required patterns in different shapes at varying degrees of brightness. Destruction caused by laser into the object or on the surface is not a worry because when laser penetrates the crystal object, its energy is not concentrated and thus materials are not damaged. Only by adjusting currents running through these focused points could destructive energy be generated.
Internal laser engraving is a new form of artistic expression, different from conventional engraving arts. Articles engraved by laser are more subtle in details and full of unique characteristics. People's aesthetic concepts have been elevated and pursuit of artistic quality enhanced as laser technology integrates with artistic expression for more innovation.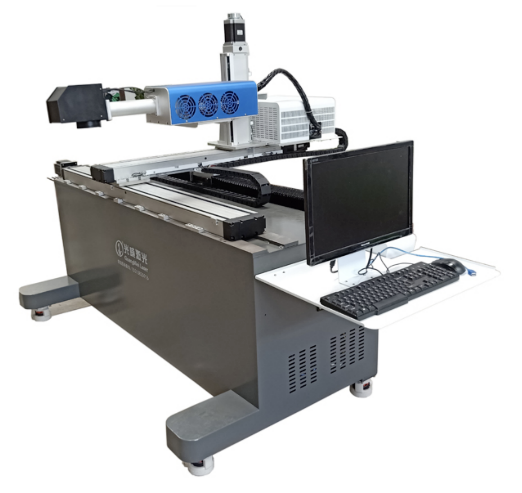 Some Chinese businesses like Han's Laser and Chutian Laser engaged in laser engraving from early days. Recent years have witnessed a batch of businesses working in this market in low-profile such as Guangwei Laser, Holy Laser and Zernike Laser. In the case of Dongguan Guangwei Laser, its status as a late comer at small scale has not prevented it from expanding rapidly into different business lines and launching new products. Since its inception, it has grown fast into a specialized high-tech company in China focusing on R&D, manufacturing and sales of laser internal engraving equipment and products by resorting to advanced design concepts and completed service system. Its business has climbed new heights for many consecutive years thanks to domestic sales and exports. What's more, its orders despite all odds increased year on year in 2020 defying the negative impact of the pandemic. All achievements are due to beneficial business concepts, and serve as testimony to the robustness of laser engraving market. Its Director General Yuan Junhao explained that in the business of laser internal engraving, the first point is to integrate resources by providing all sorts of information to clients who purchase machines and make adjustments accordingly; the second point is to think from clients' perspectives based on special conditions of internal engraving market. The company has not only taken the initiative to develop a lot of patented products and shared them with clients for free, but also promoted marketing for enhanced profitability. Feedback from clients helps improve product quality and equipment as well as develop more types of machines to satisfy market demands. The third point is to explore expectations raised by various industries on the application of internal engraving so as to widen the applicable range to for example buttons, shoe heels, glasses and fish tanks. Product functionality has to be enhanced and anti-counterfeiting function added as an effort to strengthen services. The fourth point is to lead the market trend by developing new products of internal engraving technique so that market profile could be gradually but surely erected.
Based on the advancement of colorless internal engraving, Guangwei is committed to developing the market of shaped carving that blends colors onto internally engraved patterns by taking advantage of strong reflection and refraction inside crystal or glass objects. Better light permeability in the carved part also facilitates this process. Micro-controlled circuit turns on and off different colored lights and presents splendid colorful changes on the originally colorless carved pattern based on the principle of mixing three primary colors. It is quite eye-catching whether the displayed is an internal engraving machine or an engraved article.
With regards to colored internal engraving, the International Cooperation Laboratory of Photon Craft Project in Shanghai Institute of Optics and Fine Mechanics (SIOM) has made remarkable progress thanks to experts applying pulsed laser induction to carve out successfully 3-dimensional colored patterns inside glass as designed based on the pioneering and creative research results of space-selective modification of 3D micro-structures by laser induction. A transformation from colorless to colorful laser engraving is an inevitable direction as this industry matures and market raises higher requirements and standards. Application scenarios for laser internal engraving are bound to exceed people's imagination.